Finding Peace in Times of Tragedy: The Keys to Peace and Joy When Facing Crisis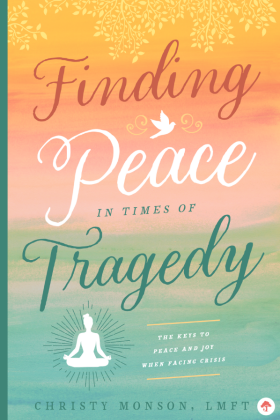 Buy Softcover (Amazon.com) | (Familius.com)
Finding peace in times of worldwide trauma is difficult, and finding peace in times of personal trauma such as a family death or tragedy can be overwhelming. Therapist Christy Monson professionally and compassionately describes how tragedy physically changes the brain and the body, and she provides powerful techniques to help heal those invisible wounds and cope with the turmoil of our day.
Chapters are interspersed with moving, first-hand accounts that span the range of human tragedy, including those from
A 9/11 survivor
Parents who had two children die of brain tumors
A mother whose son lost a leg in a road side bomb in Afghanistan
A young adult whose father committed suicide
And a rape survivor.
Through detailed research, years of experience, and detailed interviews with survivors, Monson shows that there is hope for not just peace but also joy after tragedy.
In Finding Peace in Times of Tragedy, Christy Monson recounts compelling stories from her decades of professionally healing families in tragic circumstances. Monson pairs her wisdom alongside tender, provoking stories that illustrate tragedy in the lives of past clients and also in her own life. The stories of growth and healing are masterfully and lovingly retold. As a therapist who specializes in helping children through trauma, I've found this book a powerful and wonderful new tool in helping my clients heal.
Nefily Ledezma, LMFT
This powerful and wonderful book explores and explains one of the most crucial topics in our society. Finding Peace in Times of Tragedy is a moving and compassionate portrayal of what people and communities are searching for in a world filled with chaos, tragedy, and uncertainty. Anyone who is looking for answers to almost seemingly unanswerable questions should read this book from Christy Monson.
Dennis J. Carradin Jr., LPCMH, NCC, BCETS, Founder and CEO, The Trauma Survivors Foundation