Christy Monson Books
Book Signing and Blog Tour dates on the events page
See more books here
Latest Books
Love, Hugs, and Hope: When Scary Things Happen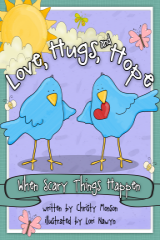 This is a book about love and light and is meant to help children everywhere begin the process of healing from tragedy.
"A beautiful two part message is embedded at the core of this lovely book, with perfectly balanced text and illustration. It proclaims: 'Love chases away hate (on a valentine held by a penguin) and light chases away the dark (with a lit candle held by a duck in the darkness with stars).'"
---
Just as a butterfly emerges from a tight constricting chrysalis to beautify the world, you can break out of old confining habits. Free yourself from outdated childhood beliefs.
Positive energy can be yours through:
Goal setting
Understanding childhood misconceptions
Journaling
Positive self-talk
Find peace and attract healthy relationships with this step-by-step process. Enhance the quality of your life with this clearly outlined life-renewing procedure.
Becoming Free: A Woman's Guide to Internal Strength