Family Talk: How to Organize Family Meetings to Solve Problems and Strengthen Relationships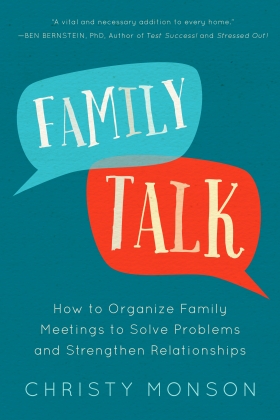 Buy Softcover (Amazon.com) | (Familius.com)
Christy Monson, a retired family therapist, provides in simple language concrete examples and clear language to family success through family councils.
While families are diverse and their needs are unique, a family council provides a safe and strong environment for every family to discuss issues and explore the best ways to have the family succeed. A family council is not just any meeting. It's a special event that provides a background and foundation to create healthy family synergy. Monson teaches families what a family council is and what it is not, why it's a perfect environment for teaching, for exploring difficult issues, learning how to play, and how best to solve problems at home, school, or work.
Christy Monson's straightforward, easy-to-understand guide will help families of all sizes and types, through the communication and caring that comes from great family councils. Learn how councils work and how to easily implement them. The author's expertise as a former family counselor and successful mother shine through in this offering. Highly recommended.
Margot Hovley, Author of The End Begins: Sudden Darkness, With Wondering Awe, and The Sower
Praise for Family Talk
The Family Council Guidebook is a vital and necessary addition to every home. In this day and age when emails, chat rooms, and staring at computer screens are rapidly replacing real-time interaction, what better corrective could there be than a guidebook to how to talk with one another in meaningful, productive and healing ways. Christy Monson knows what she is talking about. It is a great blessing that she is sharing it with all of us.
Ben Bernstein, PhD, author of Test Success! and A Teen's Guide to Success