Love, Hugs, and Hope: When Scary Things Happen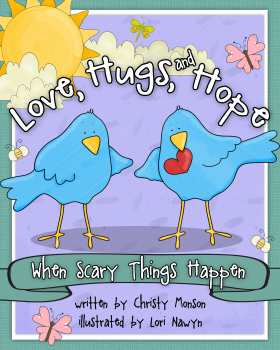 Buy Hardcover | Buy Kindle Edition
This is a book about love and light and is meant to help children everywhere begin the process of healing from tragedy.
Love, Hugs, and Hope: When Scary Things Happen aims to help children find safe ways to express their feelings when bad things happen. A beautiful two part message is embedded at the core of this lovely book. It proclaims: "Love chases away hate and light chases away the dark."
Midwestbookreview.com
To my mind, the book accomplishes what the author set out to do and so eloquently states in her book: "Love chases away hate and light chases away the dark."
Drienie Hattingh, former resident of South Africa
The story has a great feeling to it — a warm, calming, friendly — but serious — feeling. It is told in a very simple way, but I think it tells a big story. I believe this is a book that every family will have use of in their house.
Eric, thiskidreviewsbooks.com
Christy Monson received a master's degree in Marriage and Family Therapy from UNLV and established a successful counseling practice. She and her husband raised six children and are now retired in Ogden, Utah.