Becoming Free: A Woman's Guide to Internal Strength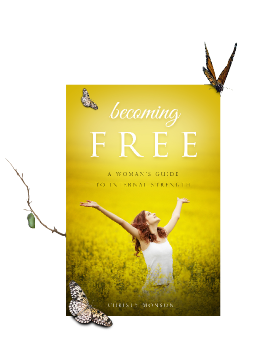 Buy Softcover | Buy Kindle Edition
Just as a butterfly emerges from a constricting chrysalis to beautify the world, you can break out of old confining habits. Free yourself from outdated childhood beliefs.
Positive energy can be yours through:
Goal setting
Understanding childhood misconceptions
Journaling
Positive self-talk
Free yourself from the skewed perspectives stemming from archaic childhood beliefs. These youthful misconceptions can serve as barriers in adulthood to keep love and positive energy at arm's length, denying you the quality of life you deserve.
This book will guide you through a step by step process with specific assignments at the end of each chapter to help you enhance your quality of life.
Christy Monson has accomplished a masterful task of translating that which is most often written about conceptually into step-by-step directions on how to live a satisfying and productive life!
Margaret Johansen, PhD, MFT, Author of the upcoming book, Beat The Relationship Odds
From relevant life examples, to practical resolutions, Christy recognizes women's challenges and provides feasible step by step guides to "become a solution focused person." An empowering workbook that is extremely valuable in its simplicity.
Robyn Buttars, RN